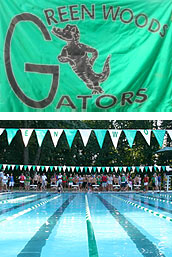 2020 Online Registration date TBA
ELIGIBILITY – A swimmer must be 18 years or younger as of May 30th, a member of Green Woods Club, AND pass a swim test (see below).
NEW SWIMMERS -ALL NEW SWIMMERS will be required to pass a swim test.  A swimmer must be able to swim the length of the pool using freestyle with correct technique and breathing to be eligible for the team.  (Younger swimmers may be asked to swim the width of the pool instead.)  Demonstrating comfort in the pool will also be observed.
TEAM COORDINATING COMMITTEE: